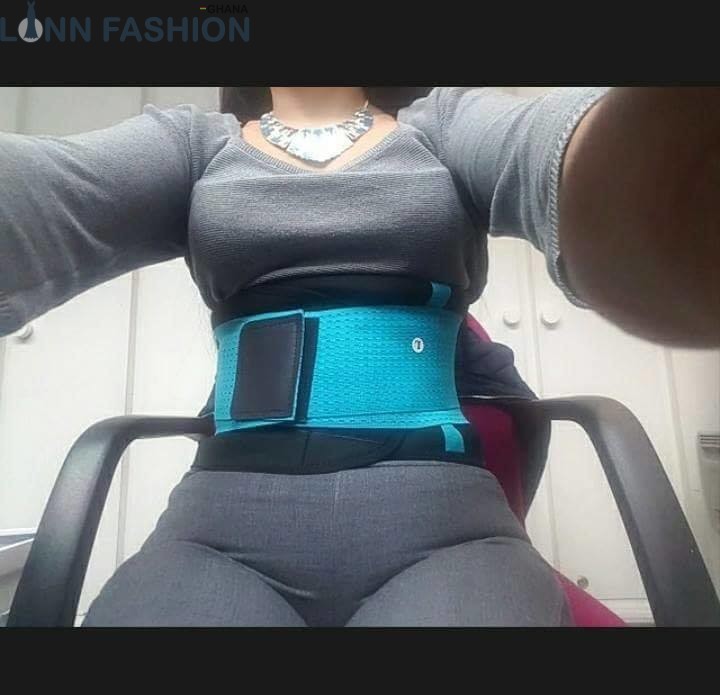 Stubborn belly fat is one of the biggest fitness problems for many men and women in Ghana. Getting lean and beautiful muscles isn't such a challenging task. Making the belly fat disappear, on the other hand, has made many fail.
Fitness product manufacturers have responded through the creation of waist trimmer belts. The premise is simple and it certainly sounds promising. Can trimmer belts, however, be used to get rid of belly fat effectively?
How does the Waist Trimmer Belt Work?
A waist trimmer belt is a product designed to enhance the results of workouts and to promote the loss of fat in the belly region. It acts as a mini-sauna that you put on before getting started with a workout.
This garment is usually made of a material like neoprene. Neoprene heats the body and doesn't absorb the sweat. This is how it increases the core temperature and makes it very easy to burn a lot of the stubborn fat in the belly region.
In essence, this is the theory behind the creation of waist trimmer belts. There are various types of such products, some delivering better results than others. Several factors will be determining for the effectiveness of these workout garments.
Features and Effectiveness
The first way in which a waist trimmer will deliver almost instant results is through the loss of water weight.
The mini-sauna that you put around your mid-section causes intense sweating. The retention of liquids is a very common problem for women (the female hormones have some impact on this physiological specific). The loss of the water stored in the core tissues can deliver almost instant slimness. One thing to keep in mind, however, is that the effect will be lost when the body becomes fully-hydrated once again.
When a waist trimmer belt is used consistently and over the long run, it can stimulate the permanent loss of fat. The waist trimmer isn't a miracle solution. Hard work, exercise and a balanced diet will be required. Choosing a quality waist trimmer belt and working out a few times per week, however, can lead to serious fat loss.
Choosing the Right Waist Trimmer
For the past few years, different waist trainer belts has been floating around in Ghana, however, waist trimmers aren't created equal. Choosing the right product will be imperative for optimal results.
A good waist trimmer is made of soft and flexible neoprene. The material intensifies sweating and at the same time, it's very comfortable to wear. Such a waist trimmer will flex with the body and it's not going to bunch up.
In addition, a good waist trimmer should feature secure fastening. Metal hooks and Velcro straps are typically used to give maximum compression and keep the waist trimmer belt in the correct position.
Good products come in a range of sizes. They should feel comfortable rather than excessively restraining. Good stretching is also essential for wrapping the belt around the tummy, keeping the fat inside the belt and producing the sauna-like effect. You can take advantage of Lynn Fashion's 65% discount promo and purchase your high quality waist trimmer belt now. Product will be shipped to any location in Ghana.
A Few Words of Caution
So, a trimmer belt can be used to get rid of the stubborn belly fat. There are a few things to keep in mind, however, if you want to get results and be safe during your workouts.
As already mentioned, this garment intensifies sweating. If you're doing very strenuous workouts and you lose a lot of water during them, it's important to focus on hydration. The trimmer belt can make you dehydrated, which is far from healthy. Drink plenty of liquids after you're done with the exercise to replenish your body's water supply.
In addition, the belt has a compressing effect. This compression produces a slim silhouette but it can be dangerous. A waist trimmer belt is designed for use of up to two hours per day. If you intend to use the belt for longer periods of time, you'll need to talk to your physician first.
Trimmer belts are very simple and effective. They help you get rid of water weight and they also speed up fat burning. These are the two reasons why such products have become so popular lately. As already mentioned, it's very important to pick the right trimmer belt for your workout needs. Going through our product reviews will make it a lot easier for you to decide.
Post Tags:
waist belt picture
Corset belt reduce belly fat
arm trimmer in Ghana
waist wraps in ghana
killer curve belt 3 compression
https://lynnfashiongh com/category/lifestyle/health-fitness/
how the tummy belt works
Ghana big butts an hips hot women
best waist trainer for flat tummy in three weeks to buy in ghana
belt that can get rid of belly
women belly keep fit belt
The following two tabs change content below.
Jane Mensah is an editor of Lynn Fashion GH, a professional womens tops & blouses, coats, jackets, bottoms and dresses shop in Ghana. We are committed to provide high-quality products and services to our customers.
Latest posts by Lynn Fashion GH (see all)